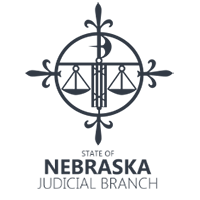 The Constitution of the State of Nebraska distributes the judicial power of the state among the Supreme Court, Court of Appeals, district courts, and county courts. All state courts operate under the administrative direction of the Supreme Court. In addition to the courts created by the Constitution, the Nebraska judicial system has two other courts – the separate juvenile courts located in Douglas, Lancaster, and Sarpy Counties, and a statewide Workers' Compensation Court.
The Supreme Court consists of a Chief Justice and six associate justices. The Chief Justice, who represents the state at large, is appointed by the Governor from a statewide list of candidates selected by a judicial nominating commission. The six remain-goving associate justices are chosen by the same judicial nominating commission procedure but each represents one of six districts. The Supreme Court's basic responsibilities are to hear appeals and provide administrative leadership for the state judicial system.
The forms and information found on this online self-help center are provided by the Nebraska Supreme Court's Committee on Implementation of Assistance to Pro Se Litigants as part of the Nebraska Supreme Court's commitment to ensuring that all Nebraskans have meaningful and full access to the judicial system, including those Nebraskans who represent themselves. This "virtual" Self-Help Center has information and links to legal resources to help you represent yourself in Nebraska Courts. The information here is not a substitute for legal advice. You should talk with a lawyer licensed to practice law in Nebraska to get legal advice on your issue.
Visit the full website & learn more about the Nebraska Judicial Branch