Driver's License and State ID Card Services
Note: Driver's License is defined as a license to operate a car, motorcycle or commercial motor vehicle unless indicated otherwise.
NEW! You can now change your address on your driver's license when renewing your license.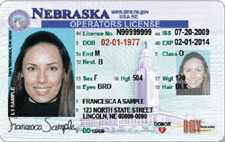 Online Considerations for All Users
Your name cannot have changed since the issuance of your last document.
Your physical description cannot have changed significantly.
The photo and physical description from your current document will be used on your new document.
You may be able to renew your CDL online every other renewal period if your license expires prior to your 72nd birthday, and your Class O or Class M license two consecutive renewal periods if your license expires prior to your 72nd birthday. You can renew your State ID Card online three consecutive renewal periods regardless of your age.
You have the capability to move from a driver's license to a State ID Card online. If you do so and desire your driver's license back, you will be required to take all knowledge and skills tests to do so.
Other exceptions may apply, check the FAQs to find out what those are.
---
To complete your request, you will need the following items:
A MasterCard, Visa or Discover Credit Card
A valid e-mail address and telephone number
If changing your address: Proof of Address Change documents. Click the following link for a list of approved documents for uploading.
Commercial Driver's License Only:

Proof of Citizenship, if not already on file. Click the following link for a list of acceptable proof of citizenship documents .
Self Certification Category A – Interstate – Non-Excepted Drivers only: Current medical examiner's certificate (card, not long form).
Please allow 20 days for receipt of your permanent documents.
There is a
$5.00
security charge assessed for every document issued online or in person by the DMV.
The final transaction total includes the statutory agency fees (security charge & document fee) as well as the
vendor's fee
to operate this online service.