NEW! You can now change your address on your driver's license when renewing your license. Just click the Continue button below to get started or check out a quick
demo
to learn more.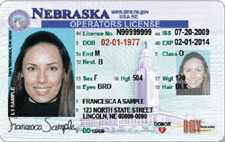 Welcome
Online considerations for ALL users:
1 Your name cannot have changed since the issuance of your last permit, license or State ID Card (Document).
2 Your physical description cannot have changed significantly. (The photo and physical description from your current document will be used on your new document.)
3 You are able to renew your documents online only once every 10 years.
4 Other exceptions may apply, please check "Frequently Asked Questions" to find out what those are.
To complete your request, you will need the following items:
Checking account information or a MasterCard, Visa or Discover Credit Card.
A valid e-mail address and telephone number.
Change of address approved documents for uploading. Click the following link for a list of acceptable proof of address documents.
Please allow 20 days for receipt of your permit, license or State ID Card.
I understand that I cannot change my name using the online process and that documents requested will not be forwarded to any other address by the U.S. Postal Service.
There is a $2.50 security charge assessed for every document issued online or in person by the DMV.
The final transaction total includes the statutory agency fees (security charge & document fee) as well as the vendor's fee to operate this online service.