Jeremy Elder, Deputy Director
Phone: 402-471-1255
Mike Martin, Budget Officer
Phone: 402-471-1254
Shawn Martindale, Warehouse Manager / Quality Manager
Phone: 402-471-1264
Steve Neff, Asst. Administrator
Phone: 402-471-1232
Kent Heiden , Human Resources/ACA/Safety Specialist
Phone: 402-471-1604
Kathleen Kelly, Customer Service
Phone: 402-471-1226
What Is Cornhusker State Industries?
Our mission is to use work as a tool to prepare inmates for successful reentry back into ourcommunities. We provide meaningful work experience by building quality products, providing servicesand creating value for our external customers. Work skills are supplemented with training, educationand certifications so inmates can effectively translate their abilities into post-release success.
Cornhusker State Industries (CSI) is the self-supporting industries program for the Nebraska Department of Correctional Services. We market goods and services produced by inmate workers within NDCS facilities to our customer base of tax-supported entities, political subdivisions, state agencies, boards, and commissions, educational institutions, and non-profit organizations.
Ultimately, CSI supports all Nebraskans by developing marketable job skills and work ethic among our inmate workers, aiding their return to society as responsible citizens. Our workers take justifiable pride in the craftsmanship of our products, while at the same time learning the importance of working responsibly as a part of our production teams. The patronage of our customers is vital to our continued success in maintaining and expanding both our programming and product lines.
CSI History
In 1886, the first prison industry shops were built within the Nebraska State Penitentiary, for cobbling shoes, making furniture, processing laundry, and canning penitentiary-grown produce. We've come a long way since then!
Past shops and factories include a broom factory, a garment factory that included dry-cleaning, a shoe repair shop, a canning operation, a dental laboratory, and a large-scale farming and dairy operation. Past products included wicker furniture, brooms, shoes, and false teeth!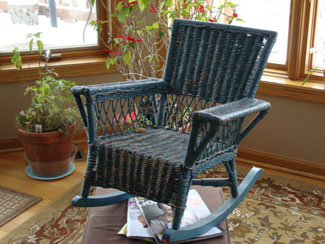 This wicker rocker was made by the Nebraska State Penitentiary shop in 1920. While CSI does not make wicker items anymore, we still have a complete line of fine furniture for offices, schools, and libraries!
CSI Today
Today, CSI continues to operate shops and programming throughout NDCS institutions. Our product lines range from Braille transcription and repair to fine custom wood to printing to medical transcription to laundry services to license plates and janitorial, clothing, and dry goods. We have shops located within the Nebraska State Penitentiary, Lincoln Correctional Center, Omaha Correctional Center, Nebraska Correctional Center for Women, and Tecumseh State Correctional Institution providing meaningful jobs and programming for hundreds of inmate workers. In addition, CSI is responsible for the provision of inmate road crews throughout the state that assist other state agencies and political subdivisions. To expand our operations, thereby offering more programming opportunities for our inmate workers, CSI is in the process of adding an additional building at the Omaha Correctional Center, with long-range planning for additional expansion at the Tecumseh State Correctional Institution, as well.